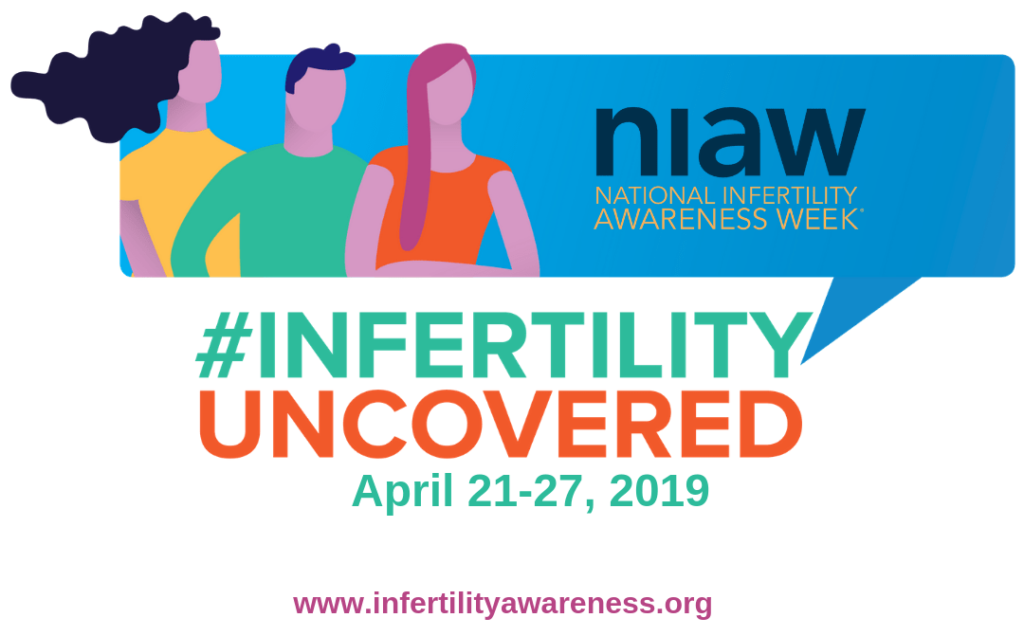 This year's theme for National Infertility Awareness Week (NIAW) is one of the best yet; #InfertilityUncovered focuses on the individuals and couples who have an infertility diagnosis but lack the resources to seek treatment.
NIAW 2019 takes place from April 21 – 27, and it would be amazing if everyone took a little time out to check in and share information about infertility and the array of support and reproductive assistance available these days. Together, we can build a more informed, educated and empowered culture around infertility and fertility medication and treatment options.
It's Time to Make Fertility Medications & Treatments More Affordable
RESOLVE, The National Infertility Association got its start back in the 70s. It began with a group of women and men who knew what it was like to live with infertility, and wanted to do something about it so others like them would have access to community, support and advocacy.
The annual NIAW campaigns are all about that – and we're particularly fond of this year's theme because our specialty fertility pharmacy is wholly dedicated to making fertility medication – and information – as readily available as possible across the demographic spectrum of those with infertility diagnoses.
Those Without Coverage Are the Most Vulnerable
The bottom line is that infertility affects roughly 8% of couples trying to have a family - that's one in every 12 couples - and infertility factors don't discriminate. They affect individuals and couples regardless of race, color, age or religion. Infertility factors are also equally spread across economic demographics, and this leaves thousands of prospective parents without any hope of being able to start a family.
As the NIAW website implores:
Let's uncover the issues of access facing the most vulnerable members of our community — those without access to insurance coverage for infertility care or the economic means to pay out-of-pocket for treatments, third-party options or adoption. And let's get real about the support needed to resolve infertility.
Spread the Word About Fertility Pharmacies & How They Can Help
NIAW campaigns are designed to unite those who are affected by infertility, and the ones they love – empowering us all to speak out and spread the word.
You can take part in promoting this year's theme, #InfertilityUncovered, by helping to educate couples or individuals battling with infertility about specialty pharmacies, also called fertility pharmacies. Among other objectives, one of our main goals is to make fertility medications affordable – and accessible –for those who need them. In order to do this we are able to offer financing options via lending organizations such as CAPEXMD and Lending Club.
We offer other amazing ways to save money
We also work with pharmaceutical manufacturers who have a range of programs that eligible patients can access to save money on fertility medications, some of which result in FREE fertility medications upon qualification.
Income-based pricing
Perhaps one of the most exciting ways those without health insurance, or those in lower-economic brackets, can save is through the Compassionate Care program that provides income-based pricing tiers. Qualifying individuals and families benefit from savings of 10% to 75% and may also be eligible for additional rebates.
Military discounts can mean free fertility medications
Did you know veterans are more likely to be diagnosed with an infertility factor as a result of combat injuries, exposure to toxic chemicals or PTSD that can lead to infertility compilations? The Compassionate Corps program provides free fertility medications to qualifying combat veterans or their spouses with an infertility diagnosis.
Fertility preservation support for women with cancer
Are you using fertility medications to freeze eggs or embryos as the result of a cancer diagnosis? LIVESTRONG partners with a wide range of clinics and organizations, including EMD Serono, to provide qualifying women pursuing fertility preservation the financial support they need so they can focus on their health and wellbeing.
Visit our fertility medication Savings Opportunities page to learn more about the programs, rebates, discounts and savings options that may be available for you or someone you love.
Have questions or want to learn more about all the ways fertility pharmacies provide support for their patients? Contact us here at Freedom Fertility Pharmacy.
Categories: